IT TAKES BALLS TO TALK VISIT ON SUNDAY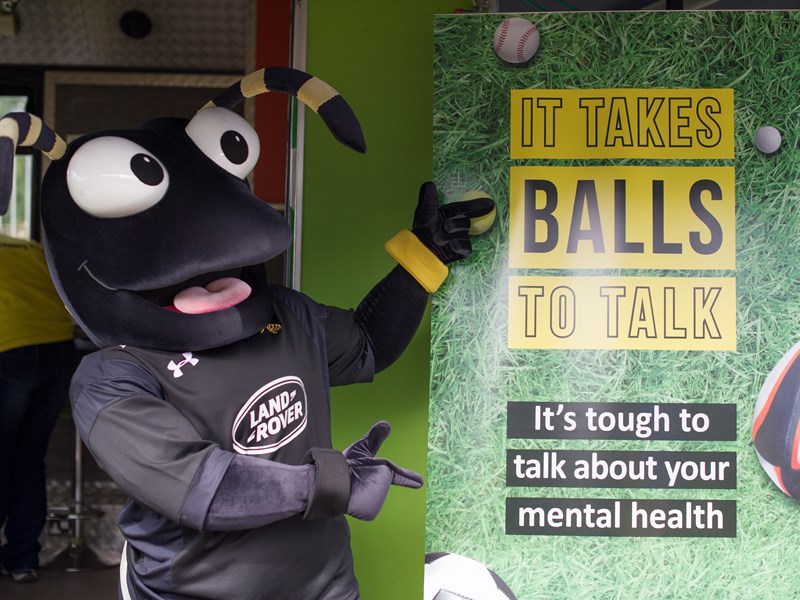 This Sunday vs. Guildford Flames at the Skydome Arena (5.15pm), we welcome back the 'It Takes Balls to Talk' team to the Skydome Arena.
The 'It Takes Balls to Talk' campaign, uses sporting themes and key messages to encourage people, particularly men, to talk about how they feel.
Mental health issues can affect anyone and can be caused by a number of factors, including bereavement, unemployment, finance and debt issues, family and relationship problems, social isolation, low self-esteem, drug and alcohol issues and many other personal factors.
Suicide continues to be three times more common in men than in women. It is also the single most common cause of death in men under 45.
Organisations are working together to get their message across to men in sporting venues and male dominated environments to share the message that it is okay to talk about how you feel.
The Coventry and Warwickshire Partnership NHS Trust has developed the campaign, in partnership with Coventry and Warwickshire Mind, Unite the Union, Samaritans, Time to Change and sporting venues including Wasps Rugby Club, Blaze Ice Hockey Club and Coventry City Football Club's charity, Sky Blues in the Community.
If you would like to find out more, seek support, or chat to the team about their work, please stop by their stand at the rink and say hello.

It can be difficult to talk about mental health and we hope that the campaign will help men understand it is important not to keep their feelings to themselves

Dr Alex Cotton, MBE, Mental Health Nurse and Founder of It Takes Balls To Talk
Coventry Warwickshire Partnership NHS Trust
Wayside
Wilsons Lane
CV6 6NY
IT TAKES BALLS TO TALK!
Help us to promote positive mental health and save someone's life.