BLAZE SUPPORT 'IT TAKES BALLS TO TALK'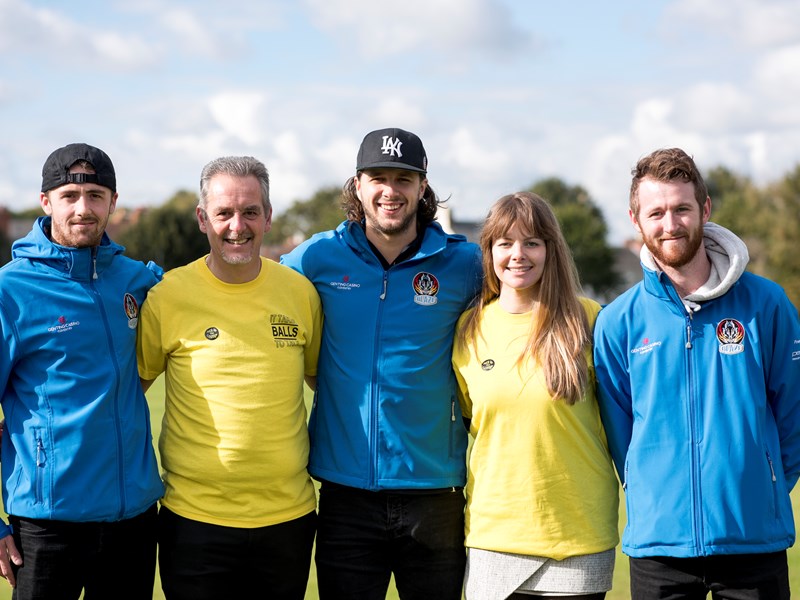 On Monday, #74 Liam Stewart, #59 Ross Venus and Promotions Executive Dale Buckland proudly represented the Genting Casino Coventry Blaze in support of the 'It Takes Balls to Talk' campaign which uses sporting themes and key messages to encourage people, particularly men, to talk about how they feel.
This Saturday we also welcome the 'It Takes Balls to Talk' team to the Skydome Arena as we take on the Belfast Giants (7pm), so please look out for the stand, stop and say hello and ask about all of the tremendous work that they have been doing.
Mental health issues can affect anyone and can be caused by a number of factors, including bereavement, unemployment, finance and debt issues, family and relationship problems, social isolation, low self-esteem, drug and alcohol issues and many other personal factors.
The campaign was launched in time for Suicide Prevention Day on Saturday 10 September. Suicide continues to be three times more common in men than in women. It is also the single most common cause of death in men under 45.
Organisations are working together to get their message across to men in sporting venues and male dominated environments to share the message that it is okay to talk about how you feel.
The Coventry and Warwickshire Partnership NHS Trust has developed the campaign, in partnership with Coventry and Warwickshire Mind, Unite the Union, Samaritans, Time to Change and sporting venues including Wasps Rugby Club, Blaze Ice Hockey Club and Coventry City Football Club's charity, Sky Blues in the Community.
Campaign volunteers have been attending a number of sporting events during the campaign to share information with attendees leading up to World Mental Health Day on Monday 10 October 2016.
The campaign team have attended professional and amateur sporting events across Coventry and Warwickshire and we look forward to welcoming them to the Skydome Arena on Saturday.
Liam Stewart said, "It was very eye opening to hear the story of Leon McKenzie (ex-Coventry City pictured below) and his battles with Mental Health. It just shows how important it is to talk out loud, this is what their campaign stands for. There is always a listening mate" 
Ross Venus continued, "It made us all more aware that it is an issue that many people keep to themselves and it is great to see this campaign spreading awareness. We are very happy to help with the campaign moving forward."

It can be difficult to talk about mental health and we hope that the campaign will help men understand it is important not to keep their feelings to themselves

Dr Alex Cotton, MBE, Mental Health Nurse and Founder of It Takes Balls To Talk
Coventry Warwickshire Partnership NHS Trust
Wayside
Wilsons Lane
CV6 6NY
IT TAKES BALLS TO TALK!
Help us to promote positive mental health and save someone's life.